EVENT SEARCH
Exhibitions A-Z
WorldFood Azerbaijan, one of the most important events in the region's food industry.
Over the years, WorldFood Azerbaijan has established itself as a reliable platform for annual meetings between experts and demonstrations of equipment, products and services in the food industry. The exhibition provides opportunities to find new customers, strengthening existing relationships with business partners and entering new sales markets.
Main product groups:
WorldFood
Meat and fowl
Dairy products
ice-cream
Fat-and-oil products
Canned food
Confectionery and baked products
Groceries
Vegetables and fruits
Frozen products
Children's and dietetic food
Tobacco products
Food adjuncts and ingredients
Fish and seafood
Delicacies and exotic seafood
WorldFoodTech
Meat-, dairy- and fish-processing equipment
Laboratory analysis equipment
Equipment for macaroni and ravioli production
Canning equipment
Bread-making equipment
Dairy industry equipment
Fat-and-oil industry equipment
Confectionary industry equipment
Bottling equipment
Refrigerating equipment
Supermarket equipment
Processing, refrigeration and freezing equipment for the fishing industry
Storage, transport and packing equipment for seafood
WorldDrink
Soft drinks
Alcoholic drinks
Tea
Coffee
Natural juices
Exotic drinks
Energy drinks
HalalFood
Agriculture & Equipment
Mini-plants for the Agricultural Industrial Complex
Agricultural tractors, hinged trailers, equipment and spare parts
Watering and land-reclamation equipment
Refrigerating units for fish and dairy products
Flour-grinding equipment
Grinding equipment
Granary, vegetable store, elevators
Mineral, biological fertilizers, stimulators
Oils and oil producing equipment
Means for protecting plants and animals
Flour, cereals, rice, soy beans and soy products
Seeds, sapling
Machinery and equipment complexes for poultry-farms and fish industry
Equipment for milking cows and storing milk
Agricultural products
Veterinary medicine and zootechnics
Forage, admixtures and fertilizer
Open to:
Professional visitors
Statistics (previous show):
Space (sqm):
3,045 (net)
Exhibitors:
207
Visitors:
8,207
Notes:
WorldFood Azberaijan 2018 is co-located with Caspian Agro 2018 and Ipack Caspian 2018.
Sales Enquiries:
Inna Lyashenko
Phone:
+49 (0) 40 235 24 - 341
Fax:
+49 (0) 40 235 24 - 410
E-Mail:
lyashenko@gima.de
Stand Construction Enquiries:
Sandra Buchholz
Phone:
+49 (0) 40 235 24 - 447
Fax:
+49 (0) 40 235 24 - 410
E-Mail:
buchholz@gima.de
exhibition homepage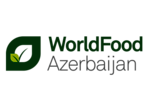 Print this page