Your reliable partner for successful trade fairs.
AquaTherm Baku is the largest specialised Exhibition in the dynamic HVAC market of Azerbaijan and the Caucasus region.
Main product groups:
Bathroom furniture and accessories
Environmental protection
Fittings and Valves
Heating Technology
Installation equipment and accessoires
Insulation materials
Measuring, control and regulating systems
Pipes and pipelines
Pumps
Sanitary technology and equipment
Water and waste-water technology
Air drying units
Air ducts
Air filters
Air-conditioners
Chillers
Cold rooms and doors
Compressors
Fancoils, Fans
Multiroom systems
Refrigerating units
Ventilation
Swimming pools
Sauna equipment
Whirlpools
Aqua parks
Bio fuels, Bio gas
Cogenertation Heating
Energy efficiency & Green building
Heat pumps
Pellet heating technology
Photovoltaics and Solar engery
Thermal insulation
Water saving systems
Open to:
Professional visitors
Statistics (previous show):
Space (sqm):
6,059 (net)
Exhibitors:
219
Visitors:
8,889
Notes:
Official Participation:
Aqua-Therm Baku 2023 will host an official German Pavilion. Further information are available upon request.
Sales Enquiries:
Margarita Fast
Phone:
+49 (0) 40 235 24 - 250
Fax:
+49 (0) 40 235 24 - 410
E-Mail:
fast@gima.de
Stand Construction Enquiries:
Sandra Buchholz
Phone:
+49 (0) 40 235 24 - 447
Fax:
+49 (0) 40 235 24 - 410
E-Mail:
buchholz@gima.de
exhibition homepage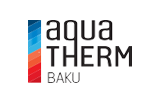 Print this page
Copyright © GiMA International Exhibition Group GmbH 2018