Your reliable partner for successful trade fairs.
Caspian Oil&Gas is the largest energy event in the Caspian region and an exclusive platform for local and international oil and gas companies to display the latest technologies, developments in the regional energy sector and showcase current projects.
For well over a decade, Azerbaijan has capitalised on its large hydrocarbon resources, actively encouraging direct foreign investment in its oil and gas industry. This investment has revitalised the country's oil sector through the development of large-scale projects and the refurbishment of existing facilities. With the completion of new pipelines, Azerbaijan has not only guaranteed secure routes to market for its oil and gas reserves but also positioned itself as one of the largest producers in the Caspian region and a potential transportation hub for other Caspian littoral states including Kazakhstan and Turkmenistan.
Main product groups:
Reservoir engineering
Geophysics and geology
Construction and exploitation
Wells, platforms and floating rigs
Designing, manufacturing and servicing
Equipment for oil and gas industry
Protection systems for pipelines, refining and petrochemicals
Hydrocarbons transportation
Building and construction for the energy sector
Providing oil and gas storage systems
Producing specialist techniques
General operational and maintenance back-up and spare parts
Oil field services
Open to:
Professional visitors
Statistics (previous show):
Space (sqm):
6,700 (net)
Exhibitors:
301
Visitors:
5,313
Notes:
Beside the participation in the exhibition it is possible to take part in the conference of Caspian Oil&Gas. Detailed information is available upon request.
Caspian Power, Caspian International Power and Alternative Energy Exhibition, will be held alongside Caspian Oil&Gas
Sales Enquiries:
Carsten Prehn
Phone:
+49 (0) 40 235 24 - 333
Fax:
+49 (0) 40 235 24 -
E-Mail:
prehn@gima.de
Stand Construction Enquiries:
Carsten Prehn
Phone:
+49 (0) 40 235 24 - 333
Fax:
+49 (0) 40 235 24 -
E-Mail:
prehn@gima.de
exhibition homepage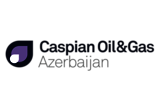 Print this page
Copyright © GiMA International Exhibition Group GmbH 2018