RosUpack is one of the largest trade shows for the packaging industry in Russia, CIS and Eastern Europe. Every year a wide range of innovative products for packaging solutions are presented. Due to quality and diversity the show has established an international reputation and provides an ideal platform for participants and consumers.
The Russian packaging market is on the rise, the demand for packaging and filling equipment increases. Private consumers benefit from slightly increasing income what leads to a 3 % growth of the total retail turnover. Moreover, important buyers of packaging equipment from the food and pharma industry take advantage of the governmental policy of subsidizing imports. (Source: gtai, 02/2018)
Main product groups:
Equipment and machinery
Ready packaging and labeling
Bulk packaging and warehousing systems
Raw and expendable materials
Open to:
Professional visitors
Statistics (previous show):
Exhibitors:
653
Visitors:
19,654
Notes:
RosUpack 2019 will be held alongside Printech 2019.
Download PDF files:
Exhibition brochure
Sales Enquiries:
Cornelia Limbach
Phone:
+49 (0) 40 235 24 - 335
Fax:
+49 (0) 40 235 24 - 410
E-Mail:
limbach@gima.de
Stand Construction Enquiries:
Ilona Lange
Phone:
+49 (0) 40 235 24 - 363
Fax:
+49 (0) 40 235 24 - 410
E-Mail:
lange@gima.de
exhibition homepage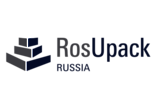 Print this page