Your reliable partner for successful trade fairs.
TransRussia is Russia's leading event for the transport and logistics industry. It is being held since 1995 and brings together major players in all sectors of the market.
Main product groups:
Transportation
Transportation by road, rail, air and sea
Combined and intermodal transport
Courier and express delivery
Associated services
Freight Forwarding
Storage
Logistic services
Distribution, storage and transportation systems
Warehouses and cargo handling terminals
Transport infrastructure
Ports and freight terminals
Railways
Transport equipment
Rolling-stock and component parts
Containers
Cargo handling equipment
Cargo vehicles
Financial services
Insurance
Leasing
Investments
Information technology
Transport automation solutions
Software for transport and logistics management
Navigation and monitoring equipment
Custom services
Custom brokers
Custom carriers
Custom clearance
Temporary storage warehouses operators
Custom warehouses operators
Software developers and producers
Intralogistics

Open to:
Professional visitors
Statistics (previous show):
Exhibitors:
398
Visitors:
18,915
Official Participation:
Transrussia 2023 will host an official German Pavilion. Further information are available upon request.
Stand Construction Enquiries:
Ilona Lange
Phone:
+49 (0) 40 235 24 - 363
Fax:
+49 (0) 40 235 24 - 410
E-Mail:
lange@gima.de
exhibition homepage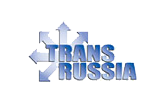 Print this page
Copyright © GiMA International Exhibition Group GmbH 2018